Karavostamo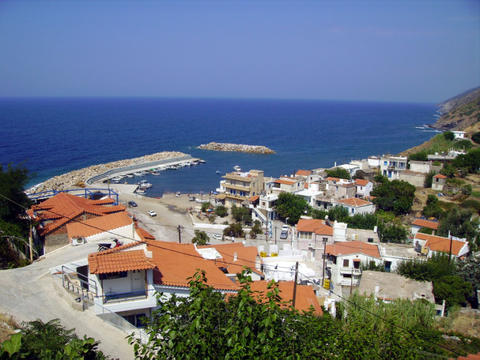 Karavostamo is a large beautiful seaside village stretching out from upon the mountain. It is composed of an upper and lower village and is situated in the northern part of the island east of the municipality of
Evdilos
.
It has approximately 485 inhabitants and is a must see for any visitor owing to its small houses amphitheatrically built, two big churches, plethora of chapels, nursery, primary school, modern oil press, streams with the crystal clear waters, old watermills, air filled with butterflies, beautiful beaches, and spring of Halikas.
The traditional "Pigi tou Halika," Halika Spring, stands just off the main road in an enchanting lush landscape.Historically it was the central meeting place of the villagers. Here they would fill their pitchers with water, wash their clothes, rest, and discuss village issues. This exclusively seafaring settlement has many interesting folklore elements to display.
In the upper village with the farm houses surrounded by terraces, some cultivated and some not, one can view scenes from the villagers' daily lives such as the drying of figs in the sun, the making of onion strings for winter usage, and the shelling and drying of nuts and almonds.
There is also a "kamini" or place where charcoal is produced, one of the few still existing in Ikaria which has had a long standing tradition in the field since before the war.
The lovely beaches of the community of Karavostamo, with their crystal clear sea, are a delight to every holiday maker. Coming from the southern part of the island you first come across the attractive beach of the Aris River.
Next you come to the beach of the lower village of Karavostamo where both young and old spend carefree hours, and finally a bit further down lies the wonderful beach of the Miliontas River.
Karavostamo retains several old watermills where the villagers once ground their wheat. Such watermills can be found in the gorge of the Aris river a little further behind the beach in the area of Exalima, in the village's green ravines, and by the Miliontas river where the watermill is over 200 years old. In Exalima, as you walk towards the heart of the ravine after the watermill you reach a dream like place teaming with lovely colorful butterflies in the spring. Also at the beach you can relax and enjoy your coffee or fresh fruit juices and many else drinks , at "Apalube" cafe-bar which started to join our pleasure at summer 2004.
Taste fresh fish and other sea food at "Mantuvala" , maybe the best tavern in Ikaria and hear the waves "slaping" the rocks under!And when the night comes (and nights in Ikaria usually starting after 2 a.m. ) visit the "River" and just waiting for the sun to rest your body for the next day...